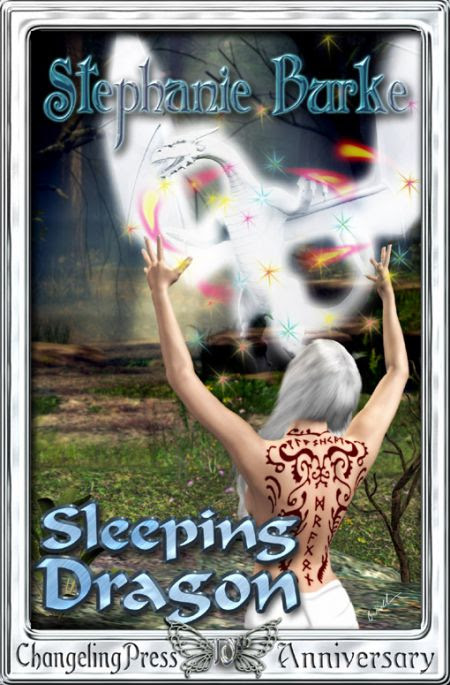 Cover Artist: Bryan Keller
Youltan lives a life of obligation and service, a slave to the desires of others, harnessing the strange and powerful chaotic energies known as Ice Magic. After a final betrayal by the people he protects, he finds himself transported to the one being who holds the key to his freedom.
The wards tattooed across Garyn's back ensure his total compliance, trapping him in his own form of slavery, until one of the traitorous Mages, the kind that devised this tortuous penance, is placed in his prison. Now manipulating his way to freedom rules the sex-shifting dragon's mind.
Garyn never expects Youltan to willingly sacrifice so much for a person he barely knows. Nor does he expect to find the a core of passionate heat that exists deep within Youltan's soul. The fight for survival takes on new dimensions and strains the very threads of their honor and morality.
But what would you expect….when you prod a Sleeping Dragon?
Praise for Sleeping Dragon
"Dragons and magic in one story, with the added feature of a sex-shifting dragon and the promise of some enemy-to-lover sparkles, had me wanting to read this book from the moment I spied the blurb. If you're up for an adventure not just of the magical and fighting-the-evil-enemy kind, but also of the explore-the-characters-sexual-orientation kind, then you should give this book a go."
— Serena Yates, Rainbow Book Reviews
"I especially enjoyed how Youltan and Garyn's feelings grew for each other… This devotion was a favorite part of the book, along with the really great sex scenes and quick witted dialogue. A wonderfully entertaining and sexy short story, Sleeping Dragon is perfect for anyone wanting to be thrilled by a quick read, and is a book I can easily recommend."
— Anya Khan, Just Erotic Romance Reviews
"Ms. Burke is a talented author who has penned a wonderful story of a same sex relationship between two magical beings. I enjoyed the story very much and I highly recommend it to anyone who likes stories of magic and dragons… most definitely a keeper."
— Susan White, Coffee Time Romance
More from Stephanie Burke at Changeling Press …
Stephanie is a USA Today Best Selling, multi published, multi award-winning author, Master Costumer, handicapped, wife and mother of two.
From sex-shifting, shape-shifting dragons to undersea worlds, sexually confused elemental Fey and homo-erotic mysteries, all the way to pastel-challenged urban sprites, Stephanie has done it all, and hopes to do more.
Stephanie is an orator on her favorite subjects of writing and world-building, a sometime teacher when you feed her enough tea and donuts, an anime nut, a costumer, and a frequent guest of various sci-fi and writing cons where she can be found leading panel discussions or researching varied legends and theories to improve her writing skills.
Stephanie is known for her love of the outrageous, strong female characters, believable worlds, male characters filled with depth, and multi-cultural stories that make the reader sit up and take notice.
Cover Artist: Bryan Keller
Blair and May are supposed to be living their happily ever after, but for them it's not that easy. Lately the only place they've been able to get along is in bed. May wants to join Blair's vampiric family in their battle against evil, but he wants nothing more than to keep her safe.
Unable to reconcile, Blair sets May free, but when he's captured by enemies, the tables turn and it's up to May to defend him — possibly to the death. How far will a newly-made vampire go to test her powers?
EXCERPT
All rights reserved.
Copyright ©2015 Kate Hill
As the pleasure ebbed, May sank into a completely relaxed state, her breathing slow and even. She was aware of nothing except Blair lying beside her, his breath against her shoulder and his hand lightly caressing her belly.
After a moment, she opened her eyes to look at him. He took her hand and kissed the back of it, then gazed at their entwined fingers, a far-off expression in his eyes.
"That's a quizzical look," she remarked. "What are you thinking about?"
"Just that I never thought I could be this happy again."
She smiled.
"And that I'm waiting for something to destroy it."
Her smile faded and she squeezed his hand. "Blair, you must learn to live for the moment — to enjoy what's happening now and stop worrying about the future until it comes."
"You're starting to sound like Hamilton."
"He's not such a bad person. I've only known him a short time, but I'm already grateful to him for a number of things."
"I never said he was a bad person, just… annoying. Stubborn. Self-righteous."
She raised an eyebrow. "Sounds like another man I know."
He looked surprised. "You can't mean me."
"Can't I?" She chuckled.
"May, that's utterly preposterous and –"
"And I'd rather not argue on our first day home. I have other things to worry about."
"Such as?"
"How do you intend to explain to the other people in the village that you've married your maid?"
"I don't intend to explain anything. It's none of their concern."
"But –"
"No buts. The opinion of anyone who would find fault in our union means nothing to me. Do you honestly think that I of all people would sacrifice love for propriety?"
"No. I'm still not accustomed to someone like you."
"Learning about each other is exciting, don't you think?"
"Quite." She snuggled closer and he tightened his arm around her.
"What would you like to do today?" he asked.
"I thought we might go for a ride so we can continue the lessons we started before we left for London. I'm still not as comfortable on horseback as I'd like to be. Then maybe you could help with my self-defense practice."
A smile played around his lips. "You're an unusual woman, May."
Smiling, she brushed the tip of her nose against his. "We're a good match then, because you're an unusual man."
She had quickly learned that Blair and his vampiric "family" were unlike humans in more than their drinking habits. Vampire females, like wildcats, often embraced violence to survive. Human women, at least in the world May knew, weren't expected to develop combat skills.
In London, Blair's friends had encouraged her to be self-sufficient. Daria, Woodrow and Giacomo had started teaching her the fighting arts and when Blair returned after battling a gang of vampire criminals, he had continued her training.
He had been pleased with her interest in learning to defend herself, having lost his previous wife and children to a brutal attacker.
May kissed him, then slipped out of bed. She searched through her travel bag for the shirt and trousers Daria had given her. She bound her breasts with a piece of cloth to protect them during exercise, then she donned the masculine attire. Blair raised himself on his elbows and gazed at her with a faint smile.
"What?" May asked.
"I never imagined a woman in men's clothes could be so appealing."
His words warmed her but she narrowed her eyes and pointed at him. "You, Sir, had better behave, at least until my training session is complete."
Blair stood abruptly and strode toward her. May moistened her lips, her heart skipping a beat at the sight of Blair's lean, muscular body and the hungry look in his eyes.
He placed a hand to the back of her head and covered her mouth in a penetrating kiss. His tongue teased hers and she moaned, her resolve already disintegrating.
When the kiss broke, he stared into her eyes with a playful look. "To tide me over until we finish the session."
More from Kate Hill at Changeling Press …
Kate Hill (Also writing as Saloni Quinby)
Always a fan of romance and the paranormal, I started writing over twenty years ago. My first story was accepted for publication in 1996. Since then I've written over one hundred short stories, novellas and novels. I love to blend genres. I also love horror and a happily ever after, so if you're looking for romance with witches, aliens, vampires, angels, demons, shapeshifters and more, there's a good chance you'll find something to your taste here.
When I'm not writing, I enjoy reading, watching horror and action movies, working out and spending time with my family and pets.  I love hearing from readers, so feel free to leave a comment at my blog or connect with me on Twitter.