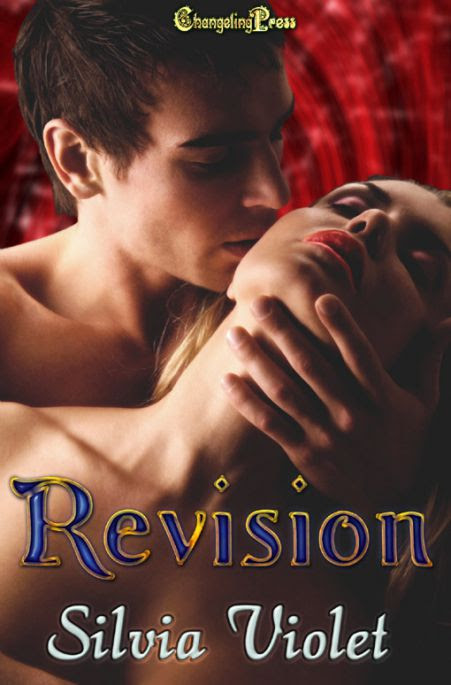 Cover Art by Bryan Keller
Vivian used the power of the written word to free Niall from an evil wizard and discovered a world of vampires, magic, and incredible sex she thought existed only in her fantasies. Now the wizard's power is growing and Vivian and Niall must work with the Vampire Consulate to destroy him before he unleashes his power on humans and non-humans alike.
As danger intensifies, Vivian and Niall's connection strengthens until there is no doubt she is his Companion. Their desire for one another rages out of control, but will fear of what the future holds keep them from sealing their bond?
EXCERPT
All rights reserved.
Copyright ©2011 Silvia Violet
Niall slid silently from the bed, cursing his lack of a weapon. Someone was on Vivian's balcony. He could hear a single heartbeat. He reached out with his mind, but whoever it was had shields too thick for him to break without giving himself away.
The balcony door slid open. Niall stepped into the living room, cloaking himself. No human would be able to see him now. Of course, he doubted the intruder was human, but he could always hope.
A tall man stepped into Vivian's apartment.
Niall sprang.
The man captured his wrist in an unbreakable grip. "You could have told me you'd reclaimed your body."
"Ethan." Niall's partner dropped his arm, and Niall stepped back.
Ethan growled. "Why didn't you call me?"
"I needed to regain my strength."
Ethan arched a brow. "Based on your smell and appearance I'd say you needed to fuck someone's brains out."
Niall ran his hand through his ruffled hair. "I would have contacted you as soon as we woke."
"It's not like you to be distracted from a mission."
"After months of being trapped by that bastard I deserve a night to feed and fuck without the Consulate coming down on my ass."
Ethan grinned. "That's true enough. Tell me how you got free."
Niall explained how he'd sent out mental feelers from the story world where he'd been trapped by Lorcan, a wizard so powerful even his band of elite vampire assassins had been unable to capture him after months of trying. Vivian, a romance writer, had been the only one to respond to his calls.
She'd listened to him tell the story of his fight with Lorcan and his capture, thinking he was a character out of her own imagination. When she'd finished writing his tale, the magic of her words brought him back into his body and transported him to her apartment.
Ethan frowned. "When did you return to your self?"
Niall glanced at the clock on the wall. It was nearly 10:00. "About twelve hours ago."
Without warning Ethan lunged for him. Niall countered the attack, blocking Ethan's attempt to smash his jaw. He sent Ethan flying backward with a swift kick.
Ethan held up his hands in surrender.
Niall snarled. "What the fuck was that about?"
"A test. You're back to nearly your full strength."
"So?"
"You should need days to recover after going so long without feeding. There's something you're not telling me."
"Apparently, I'm stronger than you thought I was." Vivian had restored his energy almost instantly. She responded to him like a Companion, yet even a Companion shouldn't have such power before being Turned. He needed more time to examine their connection before sharing it with anyone, even Ethan.
Ethan growled. "You're lying. We can't afford secrets on this mission."
Lorcan was the greatest threat to their kind Niall had encountered since joining the Protectors. "There is nothing you need to know right now. I'll tell you when I can."
"You'd better."
Niall hoped there would be nothing to tell. The thought of letting Vivian go made his stomach knot, but she didn't deserve to be forced into a bond with him, especially one that linked their lifeforces so closely. He risked his life every day as a Protector, and when a vampire died, his Companion rarely survived.
Ethan stepped back onto the balcony and retrieved a bag. He tossed it at Niall. "Duval expects us at sunset. I brought you some clothes and weapons. You'll get a new phone tonight."
"Damn! I was hoping to avoid him for a bit longer." Like until he figured out whether Vivian really was his Companion or if something even stranger was going on. Companion bonds had become rare in the last few hundred years and he'd never heard of one that formed this fast.
Ethan shook his head. "It's a formal summons. He'll drag you there if you don't come willingly."
He would too. The bastard. "How pissed is he?"
"Well, you did get caught."
"God damn it! Nobody knew Lorcan would be able to suck me into his enchanted book. I'll not be –"
He realized Ethan was laughing at his vehemence. "Fuck you."
"You're the best Protector the Consulate has. The fact that you got caught shows how strong Lorcan really is. We've been unable to locate him since you disappeared. Then last night, Duval sensed you again, and I sensed Lorcan's magic. Vivian breaking his hold on you must have weakened him temporarily. We know where he's hiding."
"Then let's go get him."
"How well did that go last time?"
Niall snarled. "I want the bastard dead."
"As do we all, but this is too big for the two of us. We need Duval. Hell, we may need every last Protector and all the allies we can bring in. We've got a few shifters watching the townhouse he's using for his base. They'll alert us if he leaves."
"This can't wait. We need to go in now."
ABOUT THE AUTHOR
Silvia Violet writes erotic romance and erotica in a variety of genres including sci fi and paranormal. She can often be found haunting coffee shops looking for the darkest, strongest cup of coffee she can find. Once equipped with the needed fuel, she can happily sit for hours pounding away at her laptop. Silvia typically leaves home disguised as a suburban stay-at-home-mom, and other coffee shop patrons tend to ask her hilarious questions like "Do you write children's books?" She loves watching the looks on their faces when they learn what she's actually up to. When not writing, Silvia enjoys baking sinful chocolate treats, exploring new styles of cooking, and reading children's books to her wickedly smart offspring.
Silvia at Changeling| Silvia's Website
Cover Art by Karen Fox
Born into a world of silence, Charlotte has always been made to feel inferior to her sister in every way. When her father demands she take Charity's place in a bride exchange on another world, Charlotte decides to embrace her future and hope for the best. She knows it's her last chance to find happiness, and she'll do anything to grab it with both hands.
Borgoz agreed to see the young girl married, but the ethereal woman who steps off the shuttle holds him spellbound. She's everything he's ever wanted, and the one thing he can never have. His job as Chief Councilor of his world is too demanding to give him time for a family of his own — but that doesn't stop him from wanting her.
A moment of passion flares bright between them, and unbeknownst to Borgoz, has lasting consequences. When Charlotte returns to her world, he's devastated and realizes he's lost the one thing he wants most. Will he buck the rules of his planet and go after Charlotte? Or will he live with the heartache he feels as the memory of her touch haunts him?
EXCERPT
All rights reserved.
Copyright ©2015 Jessica Coulter Smith
"Are you Charlotte Mayweather?" the male asked.
She nodded. "Why can I understand you and not anyone else?"
"I, along with quite a few other males on this planet, have learned your Earth English. However, to make sure you can understand everyone around you, I'm going to implant you with a translator. I'll also implant you with a sensor that will allow you to make purchases on our world. When you select a mate, he will pay for whatever you buy between now and then. Once your mating is approved, you'll be added to his accounts everywhere in Terran Prime."
"Thank you for explaining how everything works. I've been a little lost."
He frowned. "May I ask a personal question?"
She nodded.
"Your voice is different from anyone else I've encountered from Earth. Are you from a special region?"
"I'm deaf." She pointed to her hearing aids. "These allow me to hear a little, but it's like listening to someone talk under water. I don't always catch everything. And, while it allows me to hear a little, I can't always tell how loud I'm speaking."
"Understood. Perhaps, after you've found a mate, they will permit me to run some tests and see if we can restore your hearing."
"I was born deaf. My mother had preeclampsia when she was pregnant with me, and I was born early. Some of the bones inside my ear didn't form correctly. A doctor tried to explain it to me once, but I didn't understand the terms he used."
The doctor nodded. "Well, we'll take care of those implants today and if you decide you wish me to run tests later, then that's what we'll do."
She meekly followed the doctor into a back room and stretched out on the table at his direction. He explained the procedure to her before giving her some gas to put her to sleep. When next she woke, her wrist and the back of her ear hurt a little, but otherwise she couldn't tell she'd had anything done.
Charlotte found the other male pacing in the lobby.
"Can you understand me now?" he asked.
She nodded.
"I have a translator, so I understood everything you told the doctor. You're not Charity Mayweather, are you?"
"Charity is my younger sister."
The Terran's face flushed with anger. "Your father lied to me. He said he was sending Charity here to find a husband, not her deaf older sister."
She felt shame burn through her as she realized she was about to be cast aside again. Charlotte knew she should be accustomed to it by now but it still hurt, knowing she wasn't good enough for yet one more man.
"If you send me back to Earth, I'll be homeless," she said. "My father said if I didn't come here and find a husband, I would be thrown out of the house and all my accounts would be closed."
The Terran muttered something, raked a hand through his waist-length hair, and then faced her with his hands on his hips. "I'm Chief Councilor Borgoz and you'll be staying in my home. You may not be the sister I was expecting, but I'm not about to leave you stranded here. Especially with your condition."
"I'm deaf, not stupid."
The harshness of his face relaxed into an apologetic look. "I didn't mean to imply that you were stupid, but there are many dangers on a new world for anyone, much less someone who can't hear. I didn't mean to make you feel unwanted or as if you were a burden."
"It wouldn't be the first time in my life I've felt that way."
His gaze narrowed. "Your father made you feel unwanted?"
"And my sister. Be thankful she didn't come in my place. She's a spoiled, selfish brat who always has to get her way or she screams and throws things." It felt good to be honest about her sister without fear of being punished. Everyone always treated Charity as if she was a princess, and Charlotte was tired of it.
"Right. Well, let's get you settled. I'm sure you'll want more things than what you brought with you. Once you've had a chance to put your belongings away, I'll take you shopping for anything you had to leave behind."
"I don't need much. As long as you have something to wash with, I'll be fine. I have enough clothes to last a week before I'll have to do laundry."
"An Earth week is seven days, correct?"
She nodded.
"A Terran week is eleven days. You'll need more clothes. Things are different here on Terran. We don't have machines in our homes to launder our clothes, and the shop in town that handles it is usually busy. You'll want as many outfits as possible."
He crooked his elbow and she curled her hand around it, watching as he hefted her bag as easily if it contained no more than feathers.
Charlotte tried to take in the scenery as they walked through Terran Prime. Borgoz explained that, while he had a vehicle to maneuver through the city, he thought she might like the walk to stretch her legs after such a long shuttle ride.
When they reached his home, her jaw dropped as she stared at the massive structure. She'd lived in a mansion all her life, but Borgoz's home surpassed that of her father's by a fourth floor and probably another twenty feet in width. She tried not to stumble over her feet as he led her up the stairs and into his home. Charlotte looked everywhere, not wanting to miss a thing.
Borgoz handed her bag to another male, and they followed him up the stairs to her room. It was twice the size of her bedroom at home with doors that opened onto a balcony overlooking a garden. It was gorgeous, and for the first time in her life she felt lucky. She was glad her father had sent her here, and had hope that her future would be bright and wonderful.
She turned from the fantastic view to find Borgoz studying her. Charlotte couldn't guess his age. There were no wrinkles on his face, but the silver in his hair told her he was probably forty at the least. But then, she didn't know how Terrans aged. For all she knew, he was pushing seventy like the vile old man her father had tried to force her to marry.
Borgoz was a handsome man. His purple eyes were dark like a pansy and quite beautiful. Those eyes were taking her in, and she wondered if he found her lacking like everyone else in her life. If she'd known she was coming to a palace, she may have dressed a little nicer for her trip. She tugged on the hem of her tank and wondered if she should change clothes before going shopping with him. He was being kind enough to give her a place to stay, the least she could do was not embarrass him in front of his people.
"I'll come back in thirty of your Earth minutes to see if you've finished unpacking. If you're hungry, we can stop for a bite to eat while we're out and then go shopping. Don't hesitate to ask for anything you need. If you can't find me, Helio will help you," he said, indicating the other male.
"Thank you."
Borgoz gave her a regal nod and then he exited with his servant.
Left alone, she quickly unpacked and changed into a pretty sundress so she would be appropriately attired for an outing with someone so important, then she spent the rest of her time admiring the view. Charlotte hoped she'd get a chance to walk through that garden and admire the petals of the vibrant flowers close up. This world was amazing and full of new and wonderful things. She couldn't wait to explore as much of it as she was allowed.
Cover Art by Karen Fox
They were the new world's only hope. Now their only hope is running from the very people they were created to protect.
Javen and Gara were bred to be the perfect soldiers, protecting New Earth from the scourge from above. As lovers, they were created to resonate in perfect harmony with each other, their lives the stuff of legends. But they proved to be evolution's darlings, developing beyond anything the scientists had ever dreamed of, their advancement eclipsing that of their creators.
Now their only hope is a planet of their own, where they can live free — free to construct a new society based on the ideals of justice and honor.
But with dangerous factions at work, a mysterious prophesy, and an old enemy amassing, this stunning melody may ring out with the perfect notes to save the worthy and unworthy alike. Freedom demands an awful price.
Publisher's Note: This Box Set contains the previously published novellas Space Opera and Space Opera: The Second Movement.
What are reviewers saying?
Praise for Space Opera"If you enjoy stories full of action, in the bedroom and out of it, stories also full of interesting characters and an attention-getting plot, you will thoroughly enjoy this book."

 — Jacquelyn R. Ward, The Romance Studio
"Space Opera is a multifaceted sci-fi odyssey with very imaginative characters. Stephanie Burke exhibits an ingenious ability that captured my attention to the end."
— Rosemary, Joyfully Reviewed
Praise for The Second Movement"Ms. Burke weaves a seamless tale of unconditional love, friendship, heartbreak and power in this second installment of her Space Opera and I loved getting to meet these men and learning their story. The dialogue is snappy, the sex sizzling and the emotions are so poignant, I sniffled quite a bit!"

— Narcissus, Whipped Cream Reviews
"Just as in the first installment, this book has plenty of fantastic creatures, magical settings, a clear conflict of good vs. evil, and humor. There's also a great big helping of sex, making this a truly entertaining read… Stephanie Burke has once again written a fun and erotic sci-fi/fantasy story that's perfect for a lazy summer afternoon."
— Bella, TwoLips Reviews
ABOUT THE AUTHOR
Stephanie is a USA Today Best Selling, multi published, multi award-winning author, Master Costumer, handicapped, wife and mother of two.
From sex-shifting, shape-shifting dragons to undersea worlds, sexually confused elemental Fey and homo-erotic mysteries, all the way to pastel-challenged urban sprites, Stephanie has done it all, and hopes to do more.
Stephanie is an orator on her favorite subjects of writing and world-building, a sometime teacher when you feed her enough tea and donuts, an anime nut, a costumer, and a frequent guest of various sci-fi and writing cons where she can be found leading panel discussions or researching varied legends and theories to improve her writing skills.
Stephanie is known for her love of the outrageous, strong female characters, believable worlds, male characters filled with depth, and multi-cultural stories that make the reader sit up and take notice.
ABOUT THE AUTHOR
ward-winning author Jessica Coulter Smith has been in love with the written word since she was a child writing her first stories in crayon. Today she's a multi-published author of over seventy-five novellas and novels. Romance is an integral part of her world and she firmly believes that love will find you at the right time, even if Mr. Right is literally out of this world.
Jessica at Changeling Press | Jessica's Website | Facebook | Twitter